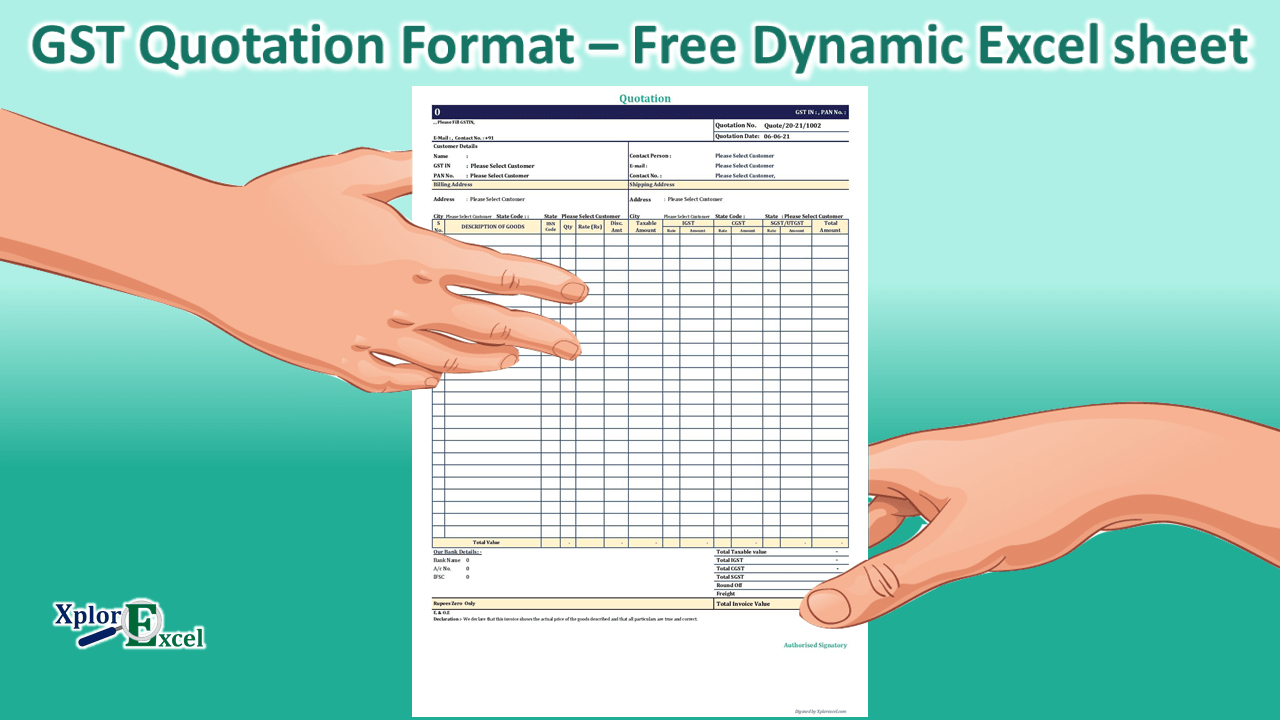 After GST invoice format there are so many requests received to create a GST Quotation Format in Excel free download. So now I am providing it. Please check it and if you Like my efforts please like this article. Don't forget to comment thanks. 
The Content covered in this article:
GST Quotation Format
As per the new taxation system in India, Every registered dealer under GST has to make the invoice in the new format (GST Invoice Format)as guided by Central Govt. or GST Act 2017. If the businessman wants to provide the price to the other business to get an order from them. This price list is known as a quotation. So we are providing you with the GST Quotation Format which will help you to generate automatic quotations. It is a very simple quotation format that will ease your daily work.
Feature of Offline GST Quotation Format: 
| | |
| --- | --- |
| 1 | Life-Time Free Excess of 1.0 version |
| 2 | Auto-generate and save Quotations in just one click  |
| 3 | Auto-generated new Quotation No.  |
| 4 | Auto Date Change to Current day Date |
| 5 | Auto Detect type of Sale (Interstate or Intrastate) and charge correct Type of GST i.e. IGST or CGST/SGST |
| 6 | Auto-detect Rate of GST from the stock list.  |
| 7 | Maintained the list of stock. So, you don't need to add stock items again and again while generating Quotation  |
| 8 | Maintained the list of Customers. Select from the list and generate an invoice  |
| 9 | Upload Your Logo  |
| 10 | Add different shipping address  |
| 11 | Save of Quotation as a PDF in the folder |
| 12 | Auto Round off the total amount  |
| 13 | Show all amounts in rupee and paise with one click  |
| 14 | Show all amounts only in rupee with one click  |
| 15 | Auto-generated total Quotation amount in words  |
| 16 | Add up to 10 Terms and conditions  |
| 17 | You can add your bank details  |
| 18 | Colorful format  |
| 19 | You can generate Quotation for up to 25 items |
| 20 | GST amount is shown Item wise with the rate of percentage  |
| 21 | You can be allowed Trade discount to you Customers charge in simple percentage and the amount will auto calculate |
| 22 | You can add Contact person Details i.e Name, Email, and Mobile No. in the customer list database  |
| 23 | You can add an amount of freight paid  |
How to operate Offline GST Quotation Format?
1. Download and Extract Quotation format in Excel | Download
First, you have to download it from the link below and Extract it with the help of WinRAR (Click Here to Download) software then you get a folder: –
Thanks for reading the topic of Offline GST Quotation Format, please write your feedback whatever you want or If you have any questions please ask us by commenting.
Please Share it with your friends.